Alipay+ Upgrades Cashier Product to Bring Merchants Integrated and Cost-Efficient Experience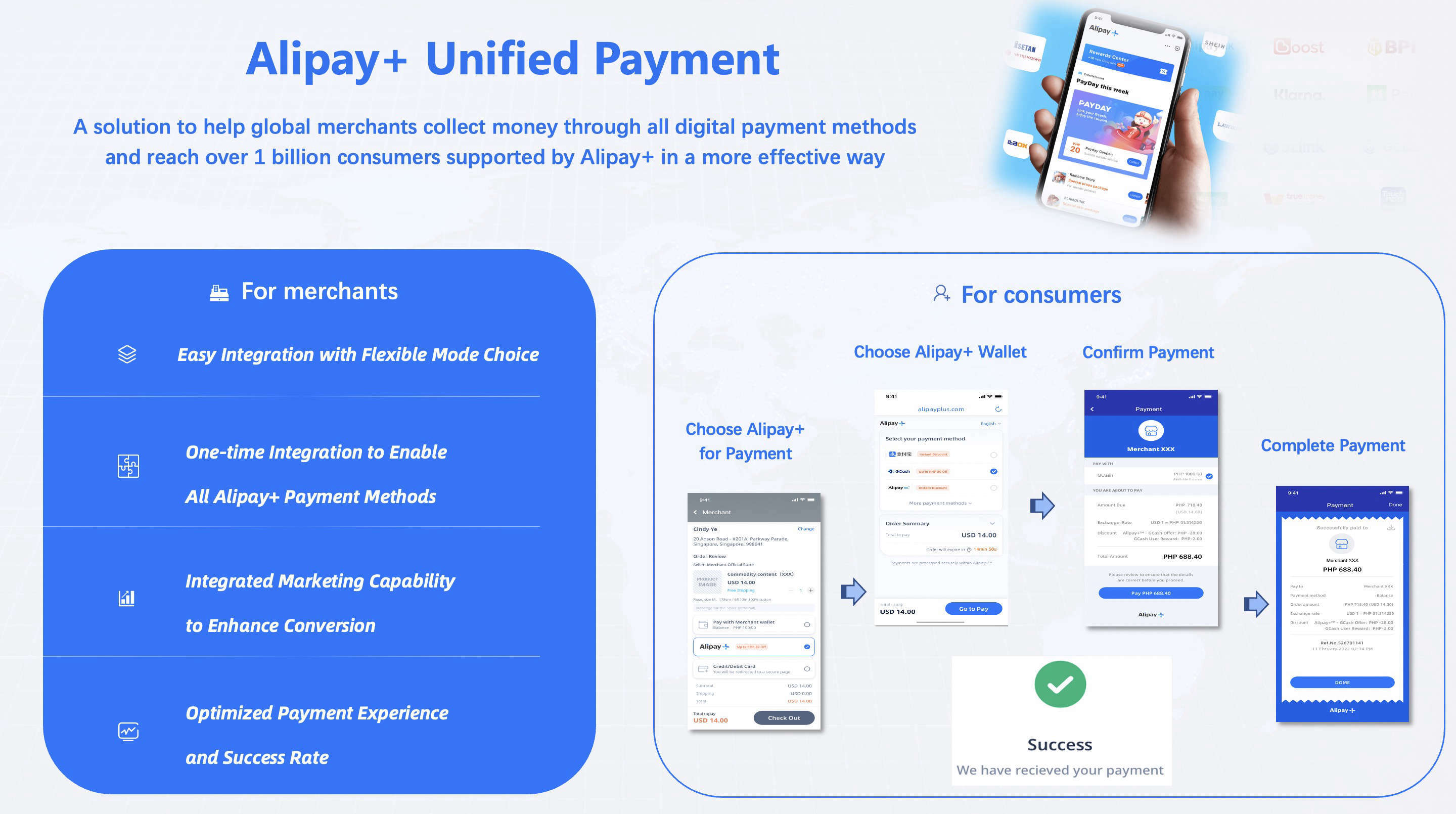 June 16, 2022, Singapore - Ant Group today announced the launch of Alipay+ Unified Payment. This major product upgrade provides a unified, scalable technical solution to help online and brick-and-mortar merchants collect money through all digital payment methods supported by Alipay+ in a more convenient and effective way.
Alipay+ offers a suite of innovative cross-border digital payments and marketing solutions, enabling merchants, especially small and medium-sized businesses, to better serve consumers worldwide. With this upgrade, Alipay+ Unified Payment further helps merchants directly reach over one billion consumers by making it easier for them to pay. Going forward, digital payment users in different countries can make cross-border payment with their local currencies wherever they see an Alipay+ sign, either online or offline, if the mobile payment methods they use adopt Alipay+ solutions.
After online merchants integrate Alipay+ Unified Payment, consumers will see an Alipay+ option when they make payments in their cashier pages. Cashiers will present users who choose to pay through Alipay+ recommended digital payment methods it supports based on their countries and payment preferences. Users can then proceed with paying using their preferred digital payment method. Brick-and-mortar merchants integrate Alipay+ Unified Payment by adopting a unified QR code scheme and scan-to-pay services, which can accept all digital payment methods enabled by Alipay+.
Alipay+ Unified Payment brings merchants highly efficient and cost-optimized digitalized cashier experiences. After one-time integration, merchants can accept all available digital payment methods, including existing methods and ones to be introduced by Alipay+ later on. Moreover, with innovative and digital-native technologies, Alipay+ can be integrated into merchants' own systems with a simple technical adaption. Alipay+ Unified Payment also provides marketing services as part of its cashier solutions to help merchants expand the reach of targeted potential users.
Alipay+ Unified Payment began its pilot phase in May 2022. Merchants, including Buygogo, an e-commerce platform and Smile.one, one of the leading top-up services for online games and entertainment, have participated in the pilot program.
"We're excited to launch Alipay+ Unified Payment, a one-stop solution integrating a wide range of digital payment methods. This upgrade helps merchants handle digital payments more conveniently and seamlessly, and greatly improves their operating efficiency," said Cheng Guoming, General Manager of Alipay+ Global Partnership, Ant Group. "We are dedicated to leveraging our innovative products and technologies to better serve merchants around the world and facilitating even more cross-border business activities as the global economy recovers from the pandemic."
About Alipay+
Alipay+ provides global cross-border digital payments and marketing solutions that enable global e-wallets and merchant partners, especially small and medium-sized businesses, to better serve their users and customers.
Alipay+ is introduced by Ant Group, the owner and operator of Alipay. As one of the world's leading digital payment platforms, Alipay serves hundreds of millions of users by connecting them with merchants and partner financial institutions that offer inclusive financial services and digital daily life services.